May 2023 Just Got A Whole Lot Tastier With Pyrmont Festival's Flavour-Packed Return
Experience the Best of NSW's Wine and Food Scene 6-7 May at Pirrama Park!
Events run until 31 May across Pyrmont.
MEDIA RELEASE
Get ready for a taste sensation like no other, as Pyrmont Festival returns to Sydney in May 2023 with an explosive lineup of mouth-watering food, wine tastings, and live entertainment. The two-day family-friendly Festival on 6-7 May, will showcase the best of NSW's vibrant culinary culture against the stunning backdrop of Sydney Harbour.

But the fun doesn't stop there, with a range of special events taking place across Pyrmont until 31 May, there will be plenty of opportunities to indulge in the ultimate celebration of NSW's diverse culinary scene.

Pyrmont Festival Director Alex Gibbs is thrilled to bring the Festival back, bigger and better than ever before. "In 2023 we are showcasing the incredible talent of winemakers, brewers, distillers, and food vendors from across the wider NSW region," he said.

"Get ready to sip and savor as Pyrmont Festival 2023 showcases an unprecedented 15 wineries and Wine Selectors, including the renowned Peterson House. The Festival will put wineries from Mudgee, the Hunter Valley and Orange in the spotlight, highlighting the best of NSW's unrivaled wine-making culture," he said.

"But that's not all! Beer lovers and gin lovers will also be in for a treat, as the festival features the best local Sydney breweries with Willie the Boatman, The Grifter Brewing Co and Yulli's Brews bringing their Froth Whitlams and Oprah Tinfreys along for the ride. As well as Byron Bay based distiller Brookie's Byron Gin joining the selection," he added.
"The ever-popular Cheeky Naked Oyster Bar will be serving freshly shucked oysters and juicy prawns straight from Sydney Fish Market. There will also be a Japanese Aburi Bar where you can pick up mouth-watering blow-torched cheesy scallops."

"We can't wait to showcase the best of Pyrmont and NSW to locals and visitors alike," said Gibbs. "And the Pyrmont Chamber of Commerce would like to thank our partners and supporters, The City of Sydney, The Star and Marsh Advantage Insurance, for their ongoing commitment to this important event."

General Manager of Food & Beverage, The Star Sydney, Jason Alcock said, "The Star has been a proud supporter of the Pyrmont Wine & Food Festival for over a decade. As this year's platinum partner and stallholder, we are excited to showcase some of the local produce our fabulous chefs use every day."

"Polymics a local band and winner of the recent 'Battle of the Bands' at The Star, will also be performing their rock 'n' roll favourites with a twist of soul," he added.

With an array of irresistible eats, outrageous art, and family-friendly events, the Pyrmont Festival promises to be the ultimate lifestyle event of the year, attracting an estimated 20,000 attendees. Get ready to indulge in the ultimate celebration of NSW's vibrant culinary culture at the Pyrmont Festival 2023!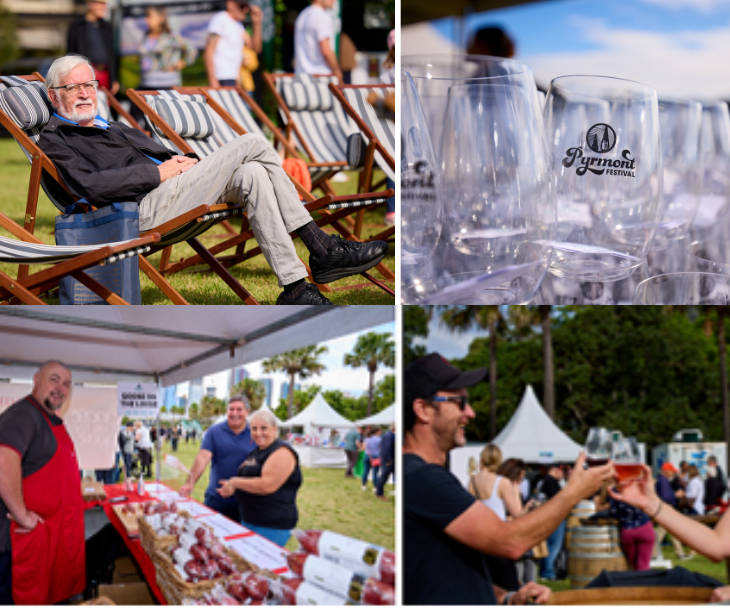 HEADLINE EVENT STALLS:
Wineries:
Tulloch Wines (Hunter Valley), Glandore Wines (Hunter Valley), Slow Wine Co (Orange), See Saw Wine (Orange), Peterson's Wines (Hunter Valley), Savannah Estate (Hunter Valley), Skimstone Wines (Mudgee), Stonehurst Cedar Creek (Hunter Valley), Peterson House (Hunter Valley), Swinging Bridge (Orange), and Robert Stein Winery (Mudgee), Gilbert Family Wine (Mudgee), Iron Gate Estate (Hunter Valley), Highland Heritage (Orange) and Tamburlaine Organic Wines (Orange and Hunter Valley).
Breweries:
Willie the Boatman, The Grifter Brewing Co and Yulli's Brews
Distilleries:
Brookie's Byron Gin
Food Vendors:
The Star, Cheeky Naked Oysters, Japanese Aburi Bar, Elements Bar and Grill, El's Fried Chicken, Sofrito Paella, Let's do Yum Cha, Berlin Bangers, Ryan Gozleme Food Truck, Lucio Pizzeria, Yiayia's Honey Balls, Build a Brownie Bar and Bar Coco.

Produce Stands:
Goose on the Loose, Enokido Miso, CellarSOMM, Team Tofu Tees, Chef Luca Ciano, The Really Stuffed Olive Co, Milnes Providore, and The Biltong Man.

Artists, Entertainment and More:
Amplified Artistry, Pyrmont Art Prize, Jane Bennett, Christmas in Pyrmont, Art classes in Pirrama Park, Jo Fabro, Pyrmont Sings, Gabriel Showren, As Seen on TV (Aidan and Jessica), The Polymics and Crown Jewel.

ONGOING PROGRAM & FEATURED EVENTS:
NSW has too much to celebrate in just two days, and so the festivities continue with a curated ongoing program through to 31 May.

Get stuck into daily wine tastings at Porters Liquor, an 'Introduction to Wine' course at Sydney Wine Centre, as well as weekly Tasty Trivia nights at the Terminus Hotel, Sydney Seafood School classes, and an unmissable Pyrmont Festival After Party to celebrate in style.

To find out more about Pyrmont Festival's ongoing program and all of the featured events, visit: https://www.pyrmontfestival.com.au/events

EDITOR'S NOTES:
WHAT: Pyrmont Festival
WHEN: 2-day event: 6 - 7 May from 11am - 5pm | Ongoing Festival Program: 1 May - 31 May
WHERE: Pirrama Park, Pirrama Road, Pyrmont, Sydney NSW 2009
AGE: This event is suitable for audiences of all ages and is family-friendly.
WEBSITE: www.pyrmontfestival.com.au
FACEBOOK: www.facebook.com/PyrmontFestivalofWineFoodArt
INSTAGRAM: @PyrmontFestival
TWITTER: @PyrmontFestival
HASHTAG: #PyrmontFestival

MEDIA CONTACT:  Original Spin P: +61 2 8065 7363 
Lachlan Camilleri lachlan@originalspin.com.au M: +61 426 744 063
Isabelle Brown isabelle@originalspin.com.au M: +61 401 576 024 
Amber Forrest Bisley amber@originalspin.com.au M: +61 411 046 734 
Alex Gibbs
Executive Director & Festival Director
Pyrmont Festival
Pyrmont Ultimo Chamber of Commerce
info@pyrmontultimo.business
ABOUT PYRMONT FESTIVAL:
The Pyrmont Festival is a festival celebrating food, wine and art, which includes the 2-Day food and wine event. The festival, which celebrates its 11th Anniversary, is a community-run event which fosters a strong connection with the country and the city.

The weekend event in Pirrama Park is a calendar highlight and draws thousands of attendees from around Sydney and regional NSW, including locals, families, tourists, connoisseurs, and celebrities enjoying wine tasting, fine foods, art, children's entertainment, and an all-day program of live music with local artists over two amazing days.