Let's Pop the Cork on Chardonnay: A Fun Guide to This Classic Wine Varietal

Raise your glass, my fellow wine lovers, because today we're talking about chardonnay! This popular white wine varietal has been around for centuries and is grown all over the world. From buttery and oaky to crisp and fruity, chardonnay can offer something for every palate. So, let's dive in and learn more about this classic wine!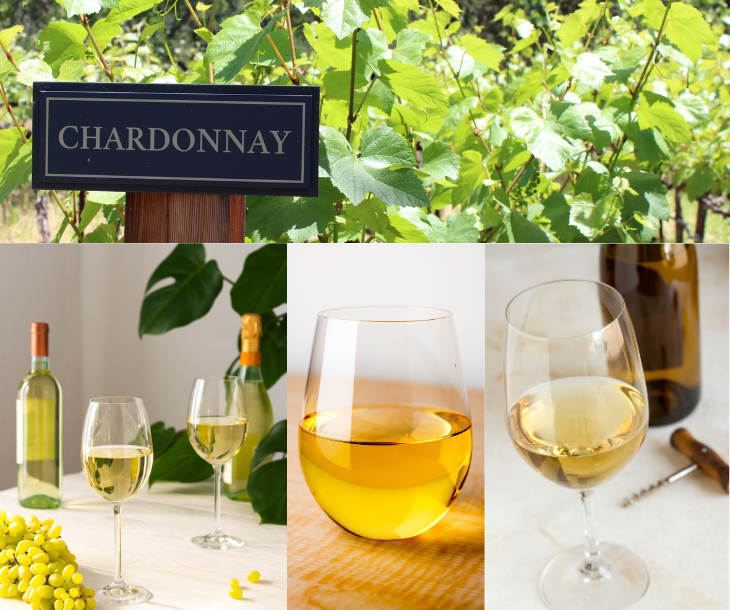 What is Chardonnay?
Chardonnay is a type of white wine made from the eponymous grape variety. It originated in the Burgundy region of France and is now grown worldwide. Depending on the winemaker's style, chardonnay can be oaked or unoaked, undergo malolactic fermentation or not, and be aged in stainless steel or oak barrels. Chardonnay grapes are versatile, and their flavour profile can range from crisp green apple and lemon to luscious tropical fruit and buttery caramel.
Where is Chardonnay grown?
Chardonnay grapes are grown worldwide, from cool climates like Chablis, France, to warmer regions like California's Napa Valley. France remains the most prominent producer of chardonnay, with other major regions including Australia, New Zealand, Chile, and South Africa. Each region has its unique terroir, which affects the wine's flavour profile.
Chardonnay Styles
Chardonnay wines fall into two broad categories: oaked and unoaked. Oaked chardonnay is aged in oak barrels, which imparts vanilla, caramel, and smoky flavours, making the wine richer and creamier. In contrast, unoaked chardonnay is fermented and aged in stainless steel tanks, preserving the fruit's natural flavours and acidity and resulting in lighter, crisper wines. The climate and region can also influence the style of chardonnay; for example, Chablis is known for producing chardonnay with lively acidity and flinty minerality.
Chardonnay Pairings
Chardonnay is a versatile wine that pairs well with many foods. Oaked chardonnay is an excellent match for creamy sauces, roasted meats, and rich seafood dishes like lobster and shrimp scampi. Unoaked chardonnay complements lighter fare like salads, grilled chicken, and seafood pasta. Chardonnay's fruitiness makes it a great aperitif, while its acidity can cut through rich dishes like foie gras and pâté.
Chardonnay Drinking Tips
Chardonnay is best served chilled, ideally between 7 to 12 degrees Celsius. When poured into a glass, the wine's aroma is released, allowing you to appreciate its flavour more fully. If you're new to chardonnay, we recommend starting with an unoaked or lightly oaked wine with a cooler climate region. This will give you a taste of the classic chardonnay flavours without overwhelming your palate.
Chardonnay is a classic wine varietal that has stood the test of time. With its versatile flavour profile and different styles, chardonnay offers something for everyone. Whether you prefer a rich and buttery oaked chardonnay or a crisp, unoaked one, there's a chardonnay to suit your taste. So, let's raise a glass to chardonnay and enjoy this delicious wine!

Author: Alex Gibbs